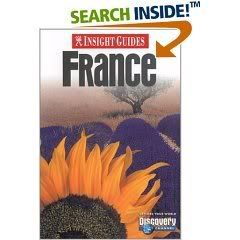 Location: San Po Kang Public Library
Library No.: 914.4 FRA
Borrowed from: Sep-Oct 2007
Well, I've always been relying on the Insight Guides Series for my European 'Free-walking' trips (i.e. backpacking).
As usual, this one contains a map of each major cities or towns which is vital for survival upon arrival: just do all you can to find the green dot representing the tourist information centre before six o'clock in the evening and you'll be fine.
However, the writing of this particular guidebook is a little bit more sensational than practical, for example, "As for St Malo and Dinard, together they form an attractive holiday centre on the Cote d'Emeraude. Dinard is modern, with the usual paraphernalia of palm-trees and a casino and beach huts; St Malo is august, historic, dignified. Perhaps they are both a little too all-or-nothing; St Malo can be a calmly austere shrine because it can unload its workaday life and its frivolities o to Dinard, and Dinard can have a cheerful spa vulgarity because St Malo, just over the river, will take care of the refined matters of historicity and beauty." (p 209) I skipped both. I guess the author must have done her travel by car, which no doubt is the most pleasant way to explore this country. But for backpackers, the practical information about trains and buses is lacking. One has to look elswhere for survival tips.
Still, in my 2007 trip, this book saw me through the following route: Amiens, Rouen, Le Mont Saint-Michel, Avranches, Qimper, Pointe du Raz, Locmariaquer, (through the Loire Valley on wheels, no time for exploring the castles or the last home of Da Vinci, but the autumn view along the river is charming enough, reading about the places afterwards is just as enriching), Laon.
Extended Reading:
Honore de Balzac.
The Lily of the Valley.
Charles Perrault
. Sleeping Beauty of the Woods. (inspired by Chateau d'Usse)
Further Reading (p 398)
Arts & Architecture
Art and Architecture in Medieval France
, Whitney Stoddard. 1972.
France: A History in Art
, by Bradley Smith. 1984.
History & Social Commentary
A Holiday History of France
, by Ronald Hamilton. 1985.
A Traveller's History of France,
by Robert Cole.
A Woman's Life in the Court of the Sun King
, by Duchesse d'Orleans. (translated by: Elborg Forster.) 1984.
France Today
, by John Ardagh.
France Today
, J.E. Flower (ed). 1983.
The French
, by Theodore Zeldin. 1983.
The Identity of France
, by Fernand Braudel.
Belles Letters
A Little Tour in France
, by Henry James (1st pub: 1885.) 1983.
A Moveable Feast
, by Ernest Hemingway. 1964.
Satori in Paris
, by Jack Kerouac. 1966.
Two Towns in Provence
, by M.F.K. Fisher. 1983.
French Literature
The Oxford Companion to French Literature
, by Sir Paul Harvey & J.E. Heseltine. 1959.
Classics by Date
La Chanson de Roland,
c. 1100.
Rabelais
, Gargantua & Pantagruel, 1532-64
Moliere,
Tartuffe, 1669.
Racine
, Phedre, 1677.
Voltaire
, Candide, 1759.
Hugo
, Notre-Dame de Paris, 1831.
Balzac
, Eugenie Grandet, 1833.
Flaubert,
Madame Bovary, 1857.
Zola
, Germinal, 1885.
Proust
, Du cote de chez Swann, 1913.
Camus
, La Peste, 1957.