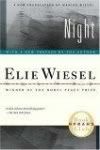 Night. Lent by a well-read colleague.
ISBN: 0374500010
As printed on the cover, 'a small book with terrifying power'. And as another reader at aNobii.com put it, 'everyone should read it'.
The only consolation of reading about the Jewish experience in WWII is that there are survivors who live to tell us the truth -- every human being has the duty to vow not to let similar event happen again, ever. However, read the current news: in the tribal killing in Kenya, a mother of two managed to escape from the window of the locked church when it's being burned down, only to witness her little daughter being hurled back into the flame by someone. It happened only last week. Shame on us, the so called human race who tried to present ourselves to be any better than the wild beasts who kill only for survival. We're all capable of doing the most abhorrent or the most noble acts. But when the occasion calls for, it is often too easy to slip to the wrong side. When will we ever learn? Oh when?